Biography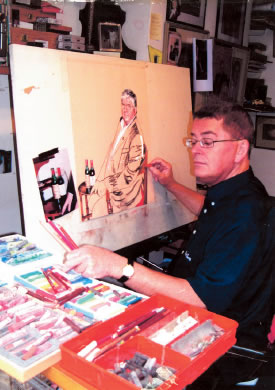 A graduate of the National College of Art & Design, Jim Harkin Initially worked in advertising and commercial design. Later he was an award-winning designer in film, with many movies and tv commercials to his credit. In recent years he has returned to his first love, portrait painting. Working in pastels, charcoals, sanguine (classic red chalk) and other types of pencil, he can produce full-colour pictures or vivid drawings.
Ideally he likes to work from a short sitting backed-up by photographs. He can also use just a photo, enabling a real surprise to be achieved or to create a treasured memory of a former family member, friend or colleague. His group constructions are particularly imaginative and can be assembled from different sources.
Call Jim and have a chat about your plans. Prices are surprisingly moderate and delivery can usually be achieved in a matter of days.